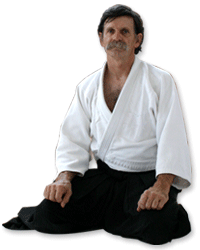 Aikido
After training in Tae Kwon Do for several years, Brian Kelley began training in Aikido in 1980 at the Shodokan Dojo in Salem, Massachusetts with Bernie Mulligan sensei. He also trained at New England Aikikai in both Aikido and Iaido with Mitsunari Kanai sensei. In 1982 he moved to Virginia with his family. Because there was no Aikido dojo in the Elkton, Va. area, he made occasional trips to Capitol Aikikai in Washington, DC to train, and did this for several years. In 1989 he began training in Ki Aikido under Jon Doner sensei of Blue Ridge Ki-Aikido in Charlottesville VA. He was awarded Shodan (1st degree black belt) in Ki Aikido in 1996. He started Elkton Ki Aikido in 1997 to provide the first Aikido dojo in the Elkton area. He achieved the rank of Shoden (first level black belt) in Shin Shin Toitsu Do (The Way of Mind and Body Unification) in 1999. He is currently a Sandan (3rd degree black belt) in Ki Aikido. He continues his Ki Aikido and Shin Shin Toitsu Do training under David Shaner sensei and Terry Pierce sensei of the Eastern Ki Federation. View Aikido class schedule.
Iaido
Brian Kelley began his study of Iaido under Mitsunari Kanai Sensei, head instructor of New England Aikikai in Boston, Massachusetts in 1980. He was awarded the rank of Shodan in Muso Shinden Ryu Iaido by Mitsuzuka Takeshi Sensei in 1982. He continues his Iaido training under Shihan Roger Wehrhahn of the North American San Shin Kai. He is currently a Godan (5th degree black belt) in Iaido.
Brian Kelley teaches Ki-Aikido and Iaido regularly in downtown Elkton just off Bus 33 (Spotswood trail), about a twenty minute drive from Harrisonburg, VA. Call him at (540) 421-4080 for further information. Classes held during weeknights and on Saturday morning.
View Iaido class schedule.